National Survey of Homeopathy in Australia
The Aurum Project has undertaken research to measure the demographics of homeopaths and their patients in Australia. This was the first time such a study was done in Australia. An innovative mixed methods study was designed to describe homeopathy practice in which homeopaths recorded aspects of their practice activity over an 8 week period in 2019.
September 2019 74th LMHI Congress - First National Survey Results Poster
Our second wave of results was presented at the 74th LMHI Congress in Sorrento Italy. To download and print this high resolution A3 poster, click on the Aurum Project 74th LMHI Congress Poster link. Note: when you click this link, you will probably notice the file looks corrupted.  Please ignore this and allow the file to download. Once the file is open in Acrobat Reader, it should look fine and will print normally. If for some reason this is not the case, please email us on info@aurumproject.org.au
June 2019 4th HRI Conference - 1st National Survey Results Poster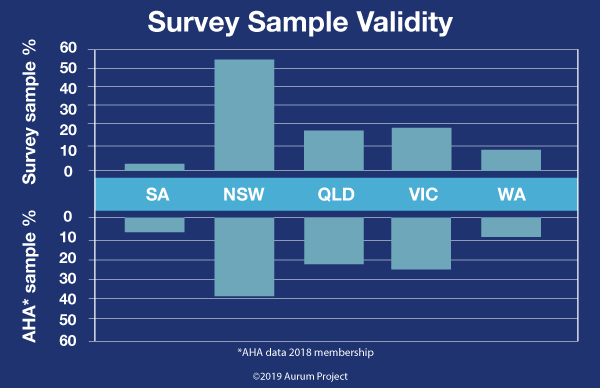 Homoeopaths participated from all of the states in Australia. The sample distribution was compared with data supplied by Australian Homeopathic Association for membership in 2019 using the chi squared test (X2 = 0.00)  and confirmed that our sample was reliable.