National Survey of Homeopathy in Australia
The Aurum Project has undertaken research to measure the demographics of homeopaths and their patients in Australia. This was the first time such a study was done in Australia. An innovative mixed methods study was designed to describe homeopathy practice in which homeopaths recorded aspects of their practice activity over an 8 week period in 2019.
National Survey Results
In June 2020, the first publication of the survey results appeared in the peer reviewed journal: Similia, The Australian Journal Of Homoeopathic Medicine: Sustaining Homoeopathy in Australia: Results and Analysis of First National Practice Survey.
This National Survey shows the support we are providing in our communities. Baseline data are now available for homoeopaths and patient demographics in Australia. We can see 'who we are, where we are,' and 'how we are' supporting the health needs of our community. Homeopaths see patients of all ages from birth to their late 80s. The health needs of our community are supported in areas spanning mental health, general needs, gastrointestinal and skin conditions. The core issue is sustainability. If we don't exist as a profession how will the community continue to receive the support homoeopathy offers? Our discussion examines some key areas to consider to enhance sustainability including education, regulation, training, and research, and we pose some unanswered questions for future studies.
September 2019 74th LMHI Congress - First National Survey Results Poster
Further results were presented at the 74th LMHI Congress in Sorrento Italy, in 2019. To download and print this high resolution A3 poster, click on the Aurum Project 74th LMHI Congress Poster link. Note: when you click this link, you will probably notice the file looks corrupted.  Please ignore this and allow the file to download. Once the file is open in Acrobat Reader, it should look fine and will print normally. If for some reason this is not the case, please email us on info@aurumproject.org.au
June 2019 4th HRI Conference - 1st National Survey Results Poster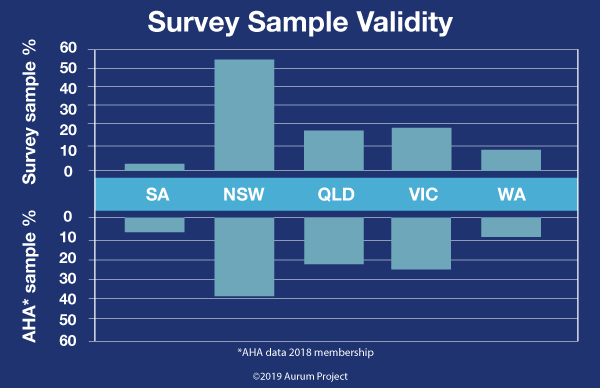 Homoeopaths participated from all of the states in Australia. The sample distribution was compared with data supplied by Australian Homeopathic Association for membership in 2019 using the chi squared test (X2 = 0.00)  and confirmed that our sample was reliable.