So you think you want a revolution? That line from a Beatles song rings true more than ever in 2018.
Prince Charles has been a happy proponent of the importance of increasing awareness about sustainability for more than 30 years and he doesn't shy away from using the word revolution.
He has been at the forefront of the 'ecological movement' way back before the movement became widely accepted. His Royal Highness, The Prince of Wales authored the book Harmony in 2010, in which his philosophies are outlined, showing the imbalance which is at the heart of the crisis which threatens us. The book describes ideas about traditional methods which may be useful again in areas of the built environment, engineering, medicine and farming. To introduce these ideas Prince Charles doesn't mind taking a stand. His opening sentence in the book declares:
"This is a call to revolution. The earth in under threat. It cannot cope with all that we demand of it. Revolution is a strong word and I use it deliberately."
Prince Charles is a vocal supporter of homeopathy
Prince Charles has been a vocal supporter of homeopathy for decades, making impassioned speeches at the World Health Assembly and British Medical Association. In fact, in a speech to the British Medical Association in 1982, he declared "I would suggest that the whole imposing edifice of modern medicine is like the celebrated Tower of Pisa, slightly off balance."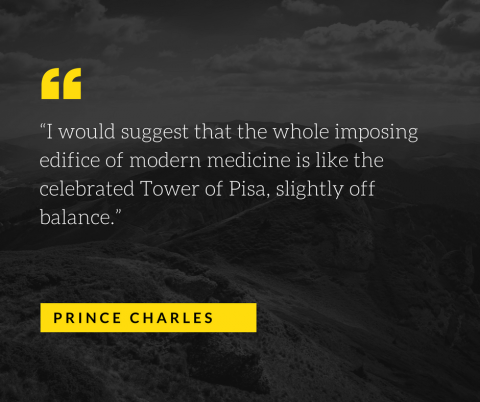 The Royal Family has long supported alternative medicine. The current royal physician is Dr Peter Fisher, clinical director at the Royal London Hospital for Integrated Medicine and an accredited homeopath.  George VI, and his father, George V were also converts.
Rachel Roberts, chief executive of the Homeopathy Research Institute, (HRI) admits that she was once sceptical about holistic medicine but was won over by Charles's endorsement of the practice. So in a way Prince Charles is responsible for the powerful thrust to promote and conduct research in homeopathy being made by HRI.
"The Royal family have huge resources and access to everything medicine has to offer, yet they choose homeopathy," explains Roberts. "I thought, 'Why would they use it if it doesn't work?'"
Rachel also is happy to describe Charles as a revolutionary.
"He's outspoken about his beliefs and doesn't appear to care that he's going against the tide of opinion," she says. "He gives homeopathy a voice. Now we're seeing a U-turn in how it is being received, and the rest of the world is catching up to where Prince Charles has been for decades."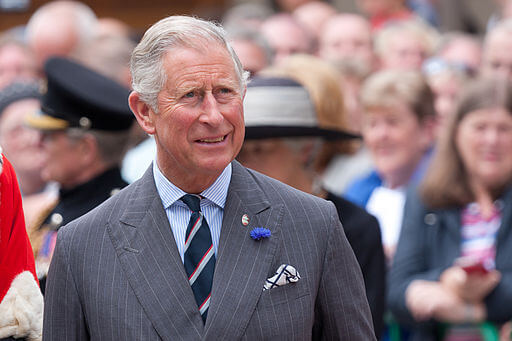 Perhaps the word revolutionary is a very accurate description for Prince Charles when you consider how happy he is to mention openly his use of alternative methods and homeopathy. Here is an excerpt from his speech to the Global Leaders Conference on Antimicrobial Resistance in 2016.
"Ladies and Gentlemen, I really am delighted to have had a brief opportunity to meet many of you just now and would like to commend you on your strenuous efforts – at long last – to address the grave threats to health posed by antimicrobial resistance. As some of you may possibly be aware – maybe not - this issue has been of long standing and acute concern to quite a few people, including myself (in fact, it was one of the reasons I converted my farming operation to an organic – or agro-ecological – system over thirty years ago, and why, incidentally, we have been successfully using homeopathic – yes homeopathic - treatments for my cattle and sheep as part of a programme to reduce the use of antibiotics). So, I take great heart from the fact that Ministers, officials and scientists of such eminence and from so many countries are putting their collective minds to the development of a concerted course of action".
Commonwealth Games visit in April 2018
The Prince of Wales and Duchess of Cornwall were in Australia, for the Commonwealth Games. They represented Her Majesty The Queen at the opening of the XXI Commonwealth Games, reading out Her Majesty's customary message, calling on athletes to come together in the spirit of friendly competition.
In addition to the visiting the Commonwealth Games, the tour included engagements which focussed on the themes of community, sustainability and disaster recovery and resilience; as well as visits which highlighted The Prince's connections to the Australian Armed Forces. The Tour included visits to Brisbane, the Gold Coast, Bundaberg and Cairns in Queensland, and the Gove Peninsula and Darwin in the Northern Territory.
Homeopathy has a history of support from respected people for the last 200 years
Homeopathy has an incredible history of support by many of the most respected people of the past 200 years, and modern science is finally catching up. Using the word revolution in the title, the book The Homeopathic Revolution, by Dana Ullman blends vivid personal stories and quotes from celebrities, the Royal Family and other luminaries from a variety of eras and fields with a new definition of homeopathy as "nanopharmacology" - one that will help people to understand its value.
Ullman lets legends like Coretta Scott King, Cindy Crawford, Sir Yehudi Menuhin, Bill Clinton, Nicolo Paganini, Mother Teresa, Vincent Van Gogh, and other practitioners weigh in on the subject. By writing about homeopathy's heroes and telling their stories, Ullman is able to reference and describe important scientific studies in user-friendly language that verifies the value of this widely used but still misunderstood tradition.
So you think you want a revolution? Lyrics by the Beatles 1968
You say you want a revolution
Well, you know
We all want to change the world
You tell me that it's evolution
Well, you know
We all want to change the world
But when you talk about destruction
Don't you know that you can count me out
Don't you know it's gonna be
All right, all right, all right
You say you got a real solution
Well, you know
We'd all love to see the plan
You ask me for a contribution
Well, you know
We're doing what we can
You say you've got a real solution?
Well, yes, homeopathy has some solutions and contributions to offer to the world of medicine and health. We are offering it peacefully in a collaborative way. In fact, Prince Charles is at pains to say he really doesn't want revolution or the destruction of modern medicine. He has never declared or suggested that homeopathy can be used at the exclusion of modern medicine.
He says "I would suggest that in today's world there is an increasingly urgent need to find an alternative to the clumsy agents" of medicine currently used on mass. He says "whole-sale industrial homogenization ... pervades, often detrimentally," in modern medicine.  He says we need to "move away from the often passive nature of the standard therapeutic relationship and towards one that is more human and more personalized".
Since you're here...

…. We have a small favour to ask you. More people than ever before are reading the Aurum Project blog. There is a surge of interest in natural therapies research. But grants or support from funding bodies is hard to come by. So you can see why we would like to ask for your help. The Aurum Project is an Australian independent research group with charity status. Our research takes a lot of time, money and hard work to keep pushing forward. But we love it because we believe our work is important and we've been told by parents over and over again that they believe what we do is important too. For as little as $5 per month you can help support our work. All donations are tax deductible. It will only take a minute. Thank you. Click here to donate today.