This overview of the Homeopathy Research Institute (HRI) online conference June 2022
 is written by members of The Aurum Project.
HRI is dedicated to promoting high quality research in homeopathy at an international level. In their online conference this year they showcased some exciting developments, diving into the unique challenges of homeopathy research papers. 
This conference demonstrates HRI's commitment  to fostering international collaboration, for the benefit of the sector as a whole. Homeopathy research studies are continually developing with more than 6200 articles found in the PubMed database when using the search term "homeopathy".
More than 450 people from 35 countries attended the conference.
Research without compromise: Types of clinical trials preserving the integrity of homeopathic prescribing
Presentation by Dr Esther van der Werf overview by Dr Sabina Vatter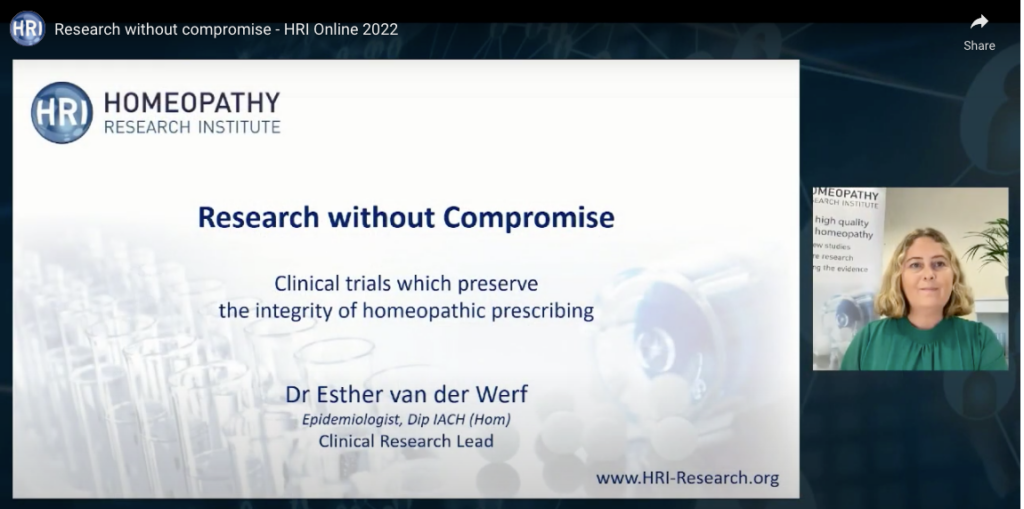 As a researcher and a homeopath, I watched Dr van der Werf's presentation with great interest. For a long time, the research field has praised randomised controlled trials (RCT) and systematic reviews as the gold standard designs and tools. RCT is designed to measure the effectiveness of a particular intervention or treatment and one of its main strengths is a reduction of bias between groups as the randomisation tends to balance participant characteristics between the groups.
Dr van der Werf described several RCTs, some of which were placebo-controlled double-blind studies and some used individualised or non-individualised homeopathic treatment. One aspect that makes conducting RCTs in homeopathy challenging is the element of 'individualisation' as majority of the studies in medicine and social sciences focus on trialling one medication or intervention. This makes conducting a RCT in homeopathy more complex, albeit not impossible. In the studies that Dr van der Werf described, homeopathy was seen favourable for insomnia (randomised double-blind placebo-controlled trial with individualised homeopathic treatment in 60 patients), depression (pragmatic RCT with individualised homeopathy in 185 patients), premenstrual symptoms (randomised double-blind placebo-controlled trial with individualised homeopathic treatment in 96 women) and sinusitis (double-blind placebo-controlled RCT using non-individualised complex homeopathic treatment in 113 patients).
It has been possible to do those studies because of collaboration, which as Dr van der Werf highlights is key to increasing the research impact of homeopathy. Overall, I really enjoyed hearing this presentation about the randomised trials that demonstrated the effectiveness of homeopathy, while preserving the integrity of homeopathic prescribing.
Mainstreaming Homeopathic provings as clinical trials. Experiences with South African regulatory bodies
Presentation by Professor Ashley Ross. Overview by Dr Celeste Salter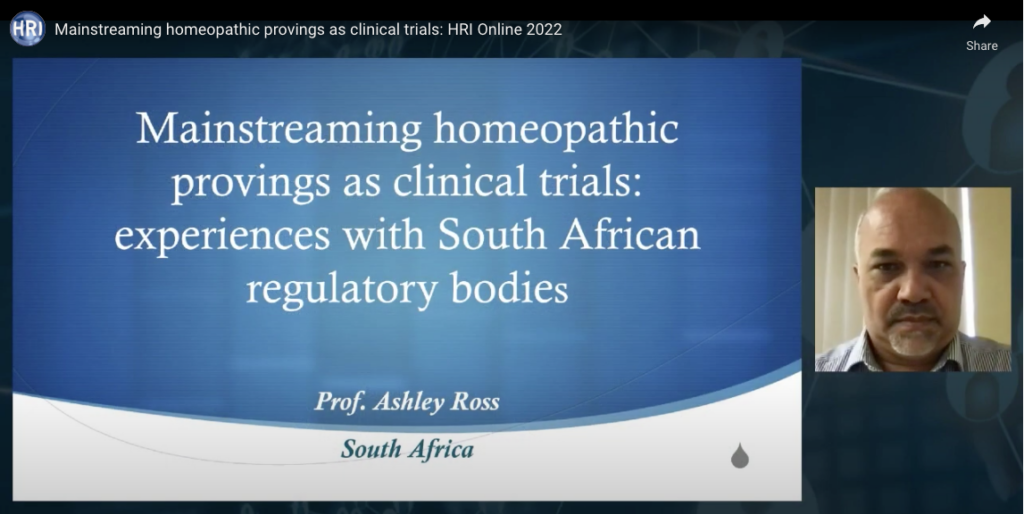 It has interested me for some time the diversity of ways homeopaths conduct provings. There is a misalignment of our fundamental research tool (proving) with the way medical research models have developed to test drugs or treatments on humans. I was interested and intrigued to hear how Professor Ross and his team at Durbin University of Technology (DUT) have bridged this gap, maintained the integrity of the homeopathic proving, and gained ethics approval to do it.
The presentation gave an account of the process undertaken and progress made with the university's ethics committee. Significant effort was undertaken in teaching the ethics community what homeopathy is and how it works. This was essential to be able to gain ethics approval to start proving research at DUT. Many Masters and several PhD students were given approval to do provings for their course requirements over several decades. However, in 2018 the South African Government reclassified homeopathic remedies as medicines. This move made it impossible to continue to undertake provings in the same way. Proving homeopathic medicines now had to pass through the clinical trials framework. 
Essentially in a proving we are giving a substance to someone and we don't have any idea what it will do. We ask participants to record what happens to them over time and this forms the body of knowledge about the symptoms this remedy will be useful for in clinical practice. Modern medicine research doesn't work this way. A drug goes through layers of testing in labs, on animals and then finally on humans, and often by the time it is given to a human the sphere of action is already understood to a large extent. Professor Ross took on the challenge to gain clinical trial approval, more paperwork, more education, more hoops to step through and gained approval. In the words of Professor Ross, we've done it once so the next time will be easier. 
And that is the soul of the message from Professor Ross's talk. It takes perseverance and rigour to move through the stages of gaining approval to undertake this research in the world we are in today. People will ask: why is this necessary? Will it harm the participants? What kind of benefit will be gained from the level of risk? Panels and committees, even at an institution teaching homeopathy research like DUT, do not know what we know about homeopathy, and can be biassed against us. We have to spend more time being rigorous, explaining our processes so that they can understand the risks as we do. Professor Ross has built a bridge between our discipline and the ability to undertake proving research in a current ethical framework. In doing so he has given our international community an essential service. Wherever possible we can build on it.
Homeopathy research in Brazil: 25 years of progress
Presentation by Professor Leoni Bonamin and  Professor Carla Holandino. Overview by Linlee Jordan.
I found this presentation to be really inspiring, and I discovered that there is so much new research in homeopathy going on in Brazil that we don't hear about in Australia. In point of fact, a significant percentage of studies about homeopathy are performed in Brazilian Universities. Mainly in basic research but also in plant and animal studies. It is such a different scenario to our Australian homeopathy research which is conducted by practitioners and rarely attached to a University. To start with I wanted to understand who the presenters were because it helps to understand the breadth and depth of what has been happening in Brazil generally over 25 years. 
Prof Bonamin 
Faculty of Environmental and Experimental Pathology, University Paulista, Brazil

Undertaking research in high dilutions since 1997

Past President of Group International Research Infintesimal (GIRI) global society of biologists, pharmacologists, physicians, chemists, physicists, and mathematicians 

Deputy Editor of "Homeopathy" 
Professor Holandino
Faculty

Federal University of Rio de Janeiro

Homeopathic pharmacist & member of Brazilian Homeopathic Pharmacopea 

Author of 70 research publications in peer reviewed journals

Vice President of GIRI Homeopathy Society

Co-ordinator of Natural Products Committee for Brazilian Academic Consortium

Supervisor of 130 PhD, Master and undergraduate students at Pharmacy College
Prof Bonamin and her team have published 100 papers and Prof Holandino has been directly involved in 70 publications. Brazil has thus positioned itself as a leader both in South America and internationally.
The two women summarised 25 years of homeopathic research carried out by several research groups from different universities in Brazil. They highlighted fascinating work in terms of quality and quantity in the areas of in vitro and in vivo research, clinical research, veterinary medicine and agriculture.
The studies discussed included work about the physicochemical features of homeopathic preparations, including interaction of homeopathic potencies with solvatochromic dyes, enthalpy variation and changes on crystalline properties of dynamized solid mixtures. The latter is a sensitive tool for improving the understanding of triturated samples.
In research about animal health, Brazil is traditionally  known as the home for nosodes research, in which different microorganisms, such as, Candida albicans, influenza virus, Leishmania infantum, and Trypanosoma cruzi are used as the starting point of the ultra-diluting process. The nosodes stimulate the immune system of the animal being treated to fight against microbial infection. 
They mentioned the work of the vet Dr Cideli Coelho on animal health. For example the remedy Crataegus in low potency used successfully in early stage heart failure in dogs and an entirely different response when used in mother tincture. They also mentioned that they can control liver enzymes (which increase as a result of anti-fungal medication used to solve fungal problems typical of the region) in Magellanic penguins through the use of Carduus marianus 6c. 
Leoni showed how homeopathy can have a beneficial effect on resolving environmental pollution. Her research found that by using Glyphosate in 6c potency, there was a positive effect upon a Glyphosate damaged microcrustacean called Artemia salina. These brine shrimps are hugely important in economic and ecological terms. Not only does this demonstrate the efficacy of homeopathy, but has real potential for redressing the effects of environmental damage and furthering conservation objectives.
Homeopathy versus Conventional medicine – can homeopathic paradigm equate the conventional paradigm in children?
Results from an Indo Israel collaboration 
Menachem Oberbaum1, Anupriya Chaudhary2, Anil Khurana2 
Overview and summary by Sunny Goddard.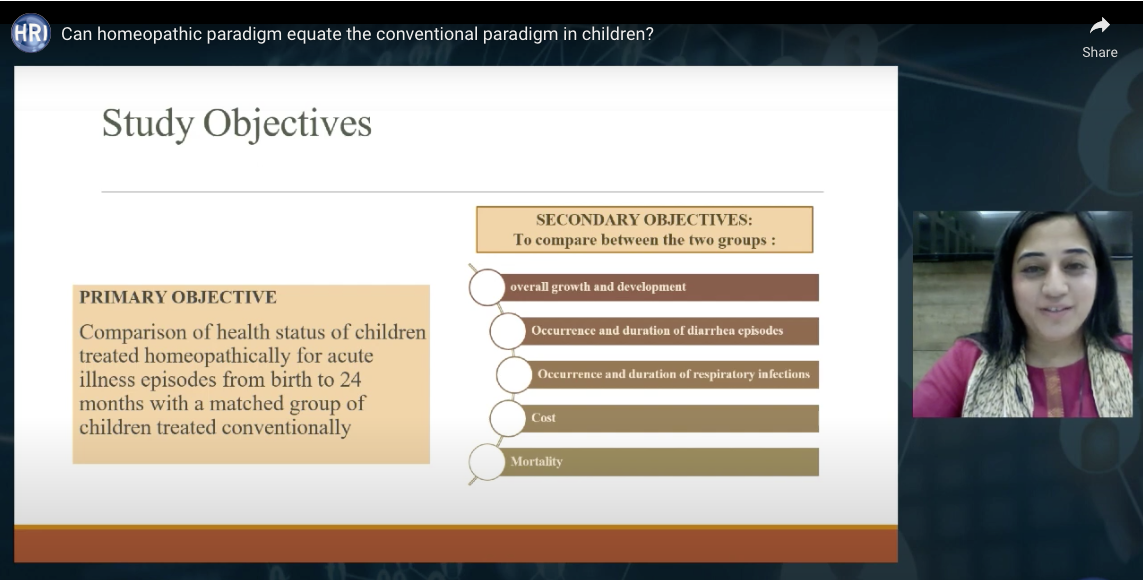 Background:
This research was a joint collaboration between the Centre for Integrative Complementary Medicine, Shaare Zedek Medical Centre, Jerusalem, Israel and the Central Council for Research in Homoeopathy, Ministry of AYUSH, New Delhi, India. 
The trial was conducted at the Jeeyah Integrated Medical Services Hospital, Telengana, India. 
This is an 80 bed homeopathic hospital with integrated services and a cross functional team of Doctors, providing Ayurvedic services, conventional medicine, surgical services, emergency care, mother and child care, rehabilitation care and preventative care. 
Introduction:
Diarrhea and acute respiratory diseases are leading causes of morbidity and mortality in young children, particularly in low-income countries,  and are responsible for more than 1.3 million and 1.6 million deaths annually, respectively. The  over – prescribing of antibiotics in primary care for these common paediatric diseases, also contributes to  the significant problem of antibiotic-resistance strains.
Homeopathy, as we know, is a safe and cost-effective therapeutic intervention, and provided it can be proven to be as effective (or more so ) than conventional medicine, it provides a viable solution not only to saving lives of young children, but also in reducing the use of antibiotics.
This study aimed to do that and was the first of its kind to compare the morbidity and cost factor of two treatment paradigms in infants: homeopathic and conventional, in the first two years of a child's life. 
Methodology:
This study was a pragmatic randomised comparative clinical trial. Newborns of both genders were enrolled and randomly selected to either the homeopathic (H) or conventional (C) group. During the 2 yrs of the study, children received either homeopathic or conventional treatment for any acute illnesses.  The sample size was 100 children – 50 in each group. 
Total sick days were compared across the groups as were other secondary measures, such as physical growth, and development. Occurrences of diarrhea and respiratory infections were measured, as was the use of antibiotics. Cost of treatments were also  compared between the groups.
Results:
Researchers identified several variables that could be confounding, such as birth order of the child, mothers education, type of family, socioeconomic class, parents age, mode of delivery etc . Both groups were comparable in these measures at baseline. 
108 children were enrolled. 99 completed the study (H=49: C = 50)
Diseases 
HOM

 N = 49 

CONV

N = 50

Respiratory illnesses

55

122

Diarrheal diseases

8

11

Febrile illnesses

29

43

Skin infections (bacterial/ fungal)

2

11

TOTAL

94

187
As you can see from the table, children in the conventional group had significantly more sick days than the  homoeopathic group. 
The conventional medicine group had 
more than double the episodes of respiratory illness

around 70 % more diarrhea episodes,

67% more febrile illness episodes and 

more than five times more skin infections 

almost double the incidence of illness
As compared to the homeopathic group.
In total the mean sum of sick days totalled 9.78 for the conventional group and 1.17 for the homeopathic group 
| | | |
| --- | --- | --- |
| Variable | Conventional group | Homeopathic group |
| Average cost (incl. supplements ) | U$34 | U$17 |
| Number of antibiotics prescribed | 141 episodes  | 14 episodes. |
Discussion of findings:
This is the first study of its kind, comparing conventional & homeopathic medical treatment, not as a method to cure or treat certain diseases, but rather as a comparison of paradigms.
Randomised controlled trials (RCT's) seek to reduce the variables studied in an experiment. Their ideal scenario is when only one variable needs to be examined in order to answer a research question. For example the effect of drug "A" on hypertension. 
Structure of a conventional RCT
1 disease + 1 treatment ——> 1 effect (cured or uncured)
A successful homeopathic RCT however, is multidimensional, potentially impacting mental, emotional, general and local symptoms, all at the same time. For example, an accurate homeopathic medicine may heal a skin rash, clear a cold sore, ameliorate coryza, improve sleep,  energy and mood, all simultaneously. 
Structure of a homeopathic RCT
X disease + Y treatment ——> Z effect (many effects possible )
With this in mind, we can see that the standard RCT is not an ideal structure in solving a research question in Homeopathy.
Reducing a homeopathic effect to a single variable distorts both the outcome of the experiment, as well as the specific impact of the homeopathic treatment being examined. By comparing homeopathy to the conventional paradigms, and not just their effect on a certain disease, this problem seems to have been solved in this study. What is also clear is that homeopathy shines when several variables can be measured at once, such as in this trial.
In conclusion, this trial demonstrated the homeopathy group had many less sick days. They had significantly fewer URTI infections, fewer GI problems, less febrile disease and the use of antibiotics was significantly less. This marked difference between the two groups suggests homeopathy's potential role in immunomodulation and points to a need for further studies on the underlying biological mechanisms at work here. Furthermore, these results are of importance with regards to confronting the problem of antibiotic resistance. And the cherry on top? As well as the homeopathic group being healthier all round, it also cost the public health system a lot less.
Closing Ceremony
The event closed with a discussion session chaired by Prof Ross. Panellists Dr Tournier, Dr Baumgartner, Prof Holandino and Prof Bonamin were in agreement on two key points: that homeopathy can be researched effectively using modern conventional research methodology and that clear progress can be seen in the research sector, particularly in terms of clarifying the mechanism of action of homeopathic medicines.
Dr Tournier asked the question: What is your vision of where homeopathy research is going?
Answers:
Leoni Bonamin said "We will understand the mechanism of action of homeopathy".

Carla Holandino said "Research is moving in a very nice way with good results coming and we need to work together."

Stephan Baumgartner said "We need to investigate the Similia principle."

Alexander Tournier said "We can improve with the use of state of the art techniques. We are on solid ground. The effects are real. Homeopathy research is alive and kicking."