Real-life effect of classical homeopathy in the treatment of allergies: A multicenter prospective observational study
The prevalence of allergic disorders in western industrialized countries, for example in the UK,  has steadily increased during the last three decades. Public acceptance of complementary treatment methods is high. The aim of this multi-center study was to assess the real-life efficacy of homeopathy and the potential to reduce conventional medication dosage.
The study was conducted by general practitioners specialising in homeopathy in nine Austrian test centers. Patients diagnosed with allergic conjunctivitis, allergic rhinitis, bronchial asthma and neurodermatitis were included in this treatment of allergies study.
Confirmation about the allergic nature of the present symptoms was obtained through a variety of assessment methods including RAST classes, skin prick testing and medical specialist checkups. In the case of patients with a long history of recurring seasonal allergy-like symptoms, assessment could be based on previous medical findings.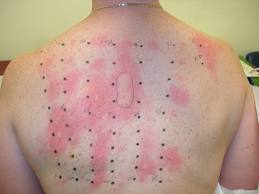 Results of the homeopathy observational study showed that 40 out of 44 patients showed substantial improvement, in most cases quite markedly. 62% were able to discontinue at least one allergy medication, while the remaining patients (38%) reported a dose reduction in at least one medication. No side effects were reported during homeopathic treatment. The real-life effect indicates that there is a potential for enhancing therapeutic measures and reducing healthcare cost, and adds to the body of literature of observational studies using homeopathy and it does not boast conclusions as to the efficacy of homeopathic treatment per se.
Half of the patients included in this observational study had been experiencing symptoms for more than ten years. 50% was the proportion (surprisingly high) of patients who were not undergoing conventional medication therapy at the moment of starting the trial. These patients said the reason for discontinuing their previous medication had been side effects and that their expectations were not fulfilled. This result is in tune with other international studies in which patients' reasons for undergoing complementary treatment were examined.
Can homeopathy be used in the treatment of allergies?
There are four reasons why homeopathy can be used in the treatment of allergies.
The long-term use of conventional allergy medication is not easily complied with, due to the occurrence of side effects.
Hyposensitization measures should be considered with care in view of the efforts, risks and expenses involved
Avoiding exposure to allergens is only possible to a certain extent (1)
Published homeopathy articles  have shown successful treatment with high patient satisfaction and very good cost effectiveness.
For these reasons, affected patients are increasingly turning to homeopathy and other complementary treatment methods. International surveys with data collection from 52 studies conducted in 9 different countries (United States, Germany, England, Sweden, Slovenia, Italy, Canada, Australia and New Zealand) reveal that natural remedies and complementary medicine have gained significant popularity over the last three decades.
In another observational study conducted by Spence et al. at the Homeopathic Hospital in Bristol over a period of 6 years and involving 6544 patients diagnosed with different chronic diseases, 70% of the subjects experienced improvements in their health condition.
Authors: Grundling C, Schimetta W, and Frass M.   Read the full text article here
Reference: (1) Mitchell G, Hernandez-Trujillo V, Liebermann P. Allergy. In: Rakel RE (ed) Textbook of family medicine. 7th ed. Saunders Elsevier 2007;26:463–75.