Although complementary medicine and homeopathy are playing an increasingly prominent role in health care practices, more controlled studies investigating their effectiveness are required. More and larger studies are needed to assess the role of homeopathy in managing immunological disorders and abnormal susceptibility to infections. So said Bellavite and the authors of a homeopathy research paper written in 2011.
In 2014, Banerjee pointed out that there are certain problems involved with conducting this research:
Classical homeopathy involves an extensive consultation and an individualized treatment regimen

Treatment methods are decided based on disease state and information gathered in the comprehensive homeopathic case-taking. Hence two patients with the same diagnosis may receive very different homeopathic treatments.

The extensive consultations in themselves might have positive effects, at least for subjective outcomes.

Clinical homeopathy, on the other hand, is delivered in much the same way that conventional drugs are prescribed. Complex homeopathy is similar to clinical homeopathy but more than one remedy is prescribed in a single formulation. 
What is the difference between classical/ individualised homeopathy and clinical homeopathy?
To clarify the difference Kushal Banerjee et al. defined the terminology in this way:
Classical/ individualized homeopathy: A single homeopathic remedy is selected based on the total symptom picture of a patient.
Clinical homeopathy: One or several single remedies are administered for standard clinical situations or conventional diagnoses.
Complex homeopathy: Multiple remedies are mixed into a standard formula to 'cover' a person's symptoms and diagnoses.
Isopathy: Remedies are made from the causative agent in an infectious or toxicological condition.
Homeopathy Research for Allergies, Rhinitis and Hayfever
In research, when classical homeopathy is used, any homeopathic medicine may be selected based on comprehensive case taking.
In clinical homeopathy, for example, Allium cepa (a common homeopathic remedy from onions) may be prescribed based on indications that match the clinical picture of allergic rhinitis.
In complex homeopathy a preparation containing different remedies, for example: Luffa operculata, Galphimia glauca, Histamine and Sulphur may be used.
In isopathy, a preparation from an allergen such as Betula (birch) may be used.
In practice, medicines used by clinical homeopaths may also be prescribed by classical homeopaths should they be indicated.
Homeopathy research study in Italy
In Italy, the Centre for Integrated Medicine in Pitigliano, Tuscany, is an innovative hospital providing homeopathy and acupuncture alongside conventional medical care.
Over a four year period, almost a third of the patients referred to the centre, presented with seasonal and perennial respiratory allergies as their primary complaint (e.g. asthma, bronchitis, rhinitis). The centre conducted research using a homeopathic protocol to treat 430 out-patients from 2011-2014. They were treated with both individual remedies and therapeutic complex remedies. Their general experience was positive and there was improved quality of life and reduction of conventional drugs.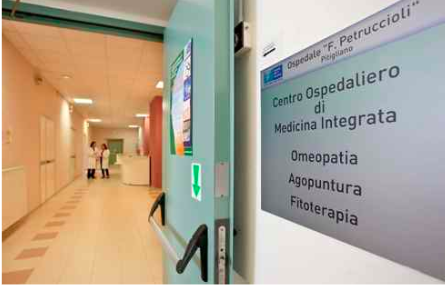 Choice of the therapeutic remedies was based on the specific pathophysiological symptoms of the allergy. They were prescribed alongside the constitutional remedies, which were designed to support the 'totality' of the patient based on more general symptoms and patient characteristics.
At first follow-up, after 2 months of treatment, 75% of patients with seasonal respiratory allergies showed a high level of improvement, with many patients experiencing complete resolution of their symptoms. These improvements were maintained throughout the 2 year follow-up period. Forty five percent of patients with perennial respiratory allergies showed similar levels of sustained improvement in their symptoms.
Compliance with treatment was high, with many patients returning for further homeopathic treatment of other conditions. No adverse reactions were reported.
'Magistral' Treatment: Therapeutic or complex remedies
In the vast majority of cases (95%), the homeopathic treatment involved the prescription of a 'magistral' homeopathic complex medicine as well as the constitutional remedy. 
The therapeutic remedies most frequently used in magistral treatment were: Arsenicum album 9 or 15c; Poumone histamine 30c; Allium cepa 9c; Euphrasia off. 9c; Nux vomica 9c; Blatta orientalis 9c; Antimonium tartaricum 9c; Ipecac 9c. The individualized remedies prescribed according to the characteristics of the patient were most commonly Lycopodium 30c; Arsenicum album 30c; Silicea 30c and Pulsatilla 30c.
The adoption of an integrated approach which included homeopathic magistral prescription satisfied three main requirements of treatment provided within the Pitigliano context: firstly, creating uniformity and reproducibility of the protocol across patients; secondly, facilitating patient compliance with treatment; and thirdly, reducing the cost of therapy. In fact, using the magistral approach had an average cost of 12-15 Euros per month of treatment, per patient.
'Magistral' is a pharmacological term for a treatment that is prescribed for a particular patient and prepared by adding single remedies one by one. In other words a personalised (or 'bespoke') combination remedy that matches symptoms as well as the patient's constitution and psychological profile as understood by the homeopath.
Conventional drug use for hayfever symptoms was significantly reduced
Medications for hay fever were significantly reduced by the end of the 2 year follow-up period. All patients with seasonal respiratory allergies had reduced their consumption of cortisone, bronchodilators or antihistaminic drugs to zero whilst patients with perennial allergic syndromes had reduced their conventional drug usage by 85 to 100%. The significant reduction in cost of treatment was also noted by the participants.
The setting for this Homeopathy research into allergies, rhinitis and hayfever was the hospital in Pitigliano (Tuscany). It is the first hospital in Italy to put into practice a model of Integrated Medicine. This clinical setting caters for the use of complementary medicine (homeopathy and acupuncture) alongside orthodox therapies (conventional medicine). This innovative setting has doctors who are experts in complementary and alternative medicine and the rest of the hospital personnel working together as equals.
Systematic Review of Homeopathy for Allergic Rhinitis
The aim of another  2017 study was to evaluate the use of homeopathy in the treatment of seasonal or perennial allergic rhinitis.
Randomized and controlled trials comparing homeopathy (individualized, clinical, isopathic, or complex) with placebo, conventional treatment, or other homeopathy in patients of any age were included. The research study in Italy was not included. The authors found eleven studies they could include in their review. From their conclusions it seems that the efficacy of treatment using isopathy alone is unclear however, the use of either Galphimia glauca or a homeopathic nasal spray may have small beneficial effects on the nasal and ocular symptoms.  They also state that future trials (including those using the individualized/ classical approach) need to take the results of the systematic review into account and be of higher methodological quality.
Trying to show the latest developments in homeopathy, one of the authors of the systematic review published a plain English version of their study which is worth looking at.
---
Homeopathy research studies
Ferreri R, Bernardini S, Pulcri R, Cracolici F, Rinaldi M, Porciani C. Improved quality of life and reduction of conventional drugs in allergic patients treated with homeopathy. HRI Research in Focus, Issue 31 Summer 2016.
Bernardini S, Cracolici F, Ferreri R, Rinaldi M, Pulcri R. Integration between orthodox medicine, homeopathy and acupuncture for inpatients: Three years experience in the first hospital for Integrated Medicine in Italy. J Tradit Complement Med. 2015; 5(4): 234-40
Kushal Banerjee, Ceire Costelloe, Robert T Mathie, and Jeremy Howick. Homeopathy for allergic rhinitis: protocol for a systematic review. 2014.
Kushal Banerjee, Robert T Mathie , Céire Costelloe , Jeremy Howick. Homeopathy for Allergic Rhinitis: A Systematic Review 2017
Bellavite P, Marzotto M, Chirumbolo S, Conforti A. Advances in homeopathy and immunology: a review of clinical research. Front Biosci (Schol Ed) 2011;3:1363–1389.
Bruera E, Kuehn N, Miller MJ, Selmser P, Macmillan K. The Edmonton Symptom Assessment System (ESAS): a simple method for the assessment of palliative care patients. J Palliat Care. 1991; 7(2): 6-9.
====================================
Since you're here…
More people than ever before are reading the Aurum Project blog. There is currently a surge of interest in natural therapies research. If you want to find out more about the latest cutting-edge natural medicine research and homeopathy news from Australia and the world, sign up to our newsletter. You won't regret it. It will only take a minute. Thank you. Click here to subscribe today.
Save
Save
Save