Make Your Aurum Project Member Profile Work For YOU!
One of the benefits of being a Member of the Aurum Project is that you get to set up a profile for your business at aurumproject.org.au  In addition to your business name, a full profile is a powerful social marketing platform for your business. As an aurumproject.org.au member, you have control of your profile in the directory and the information that's displayed. Plus, you can make changes to your profile any time you want, as often as you want.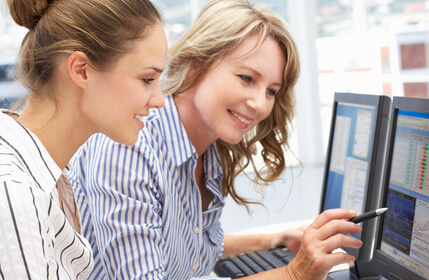 You will now have a way to engage with other members and visitors of the Aurum Project. Consider the following:
Offering discounts on products or services
Offer incentives that might encourage a guest to use your product/service
Offer perks, giveaways or other options as appropriate to your profession
A complete profile is an excellent opportunity for you to market your business within Australia. Take advantage of this opportunity right now. It doesn't cost you anything extra to do (other than your time) and the potential for more business is huge.
Watch the Video or Follow these Steps for Profile Success
Watch this video to learn how to complete your membership profile:
Or if you prefer follow these steps below:
Scroll over the Members Area tab in the purple navigation menu and select Member Renew & Member Manage page.
When you arrive at the Member Renew & Member Manage page, If you've forgotten your password, you'll want to select the second round button "Need a password," and follow the directions.
You'll be sent a password to the email address we have on file. If you don't receive your password shortly, check your spam box. Once you receive the email with the password in it, you can log in to your profile.
Note: If you already have a password, you can log in using it. And if you forget it, you can simply reset it (as often as you need to).
Update your "About" information (if necessary). Here you can update your name, address, email, phone number etc. Note: the field "Name" should be your business name. If you've made any changes, click "Save and Continue."
Click on the Profile tab Here you can write your profile description for the directory. The key to writing a great profile is thinking like a marketer. Don't focus on you; focus on what your target market is looking for. Since the search engine for this member directory is content and context driven, you'll want to use the key words that someone would search to find you. In other words, if you do "Homeopathy for Children" or "Solar Energy Installation" or you offer, "Naturopathy for Weight Loss," make sure those words appear in your profile.
Next you can update your "Business Card." You can upload your logo as well as write out a tagline up to 80 characters. Note: Don't put your name here. Instead, put in a tagline that's keyword rich in order to help your search engine optimization. Also, for each block on the profile page you'll see a question mark with the orange words, "Learn more". Click on the question mark to see a video explaining how to do each of these steps.
Create your Profile Gallery. You can upload up to eight images about your business, and we recommend you upload a picture of yourself, then add images about your business.
Add social media links. Linkedin, Facebook, Google+, Twitter, YouTube, etc., can be added here.
Important: Make sure you click on "Save, Continue" so your additions and changes are committed.
Tips for Getting Your Images Ready
There are many amazingly easy photo editors online. Two popular examples are Pixlr.com and Canva. Click the links to use either of the editors. Images uploaded to our website should be no more than 600 pixels wide, the videos below will guide you through editing, resizing and saving your profile pics. Once adjustments are made and your pictures are saved as a .jpg you can then upload them to your membership profile. From our experience, Canva is an awesome way to play around with images and text.
To upgrade your Individual Membership to Gold Member or Corporate Sponsor
Watch the following video: