What were the Key Takeaways from the Australian Homeopathic Medicine Conference 2023?
Many Aurum Project (AP) members attended the Australian Homeopathic Medicine Conference held in Brisbane 4th to 5th November 2023. This blog includes key takeaways from the Keynote Speaker presentations and AP Research Pod members poster presentations.
by Linlee Jordan
I'm on a rambling early morning walk before the conference begins. Down along Wickham Terrace before the coffee shops are open and I end up at Brisbane City Botanic Gardens.
A nostalgic mixture of smells wafts over me in the gardens: mangrove, flying foxes, bin chickens and kind of pleasant rotting flowers aroma. It's a Queensland muggy weather smell which brings me back to starting nursing here in Brisbane in 1973. That was long before I had even heard of Homeopathy. I'm lost in reverie standing in a row of magnificent Weeping Fig trees then further on, in front a massive Banyan Fig.
Then I remember that the theme of this weekends homeopathy conference is fig based: "Like the fig, it's what's inside that counts and homeopaths are ready to present the fruits of their labours for all to see". Yes. My Australian homeopathy community is so ready for this national conference - so ready to present their work face-to-face.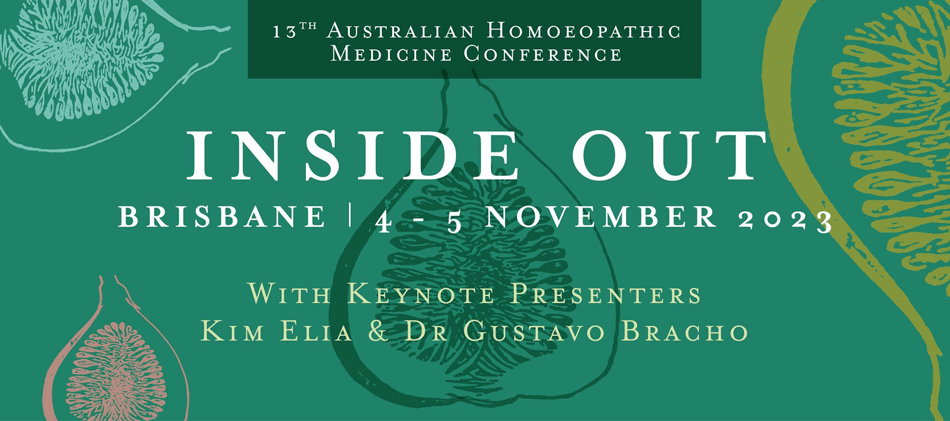 So this feeling of readiness and excitement for what homeopathy has in its future follows me in to the conference room to listen to Keynote Speaker Dr Gustavo Bracho. He is a courageous human being and a captivating speaker. And it wasn't just me who was feeling so inspired by his talk because the whole room gave him a standing ovation. Let the conference begin.
Homoeoprophylaxis (HP) as an approach for assisting epidemic control: experiences from Cuba in large scale applications
The Keynote Speech by Dr Gustavo Bracho was all the more powerful because he is not a homeopath. When he began to research HP, he wasn't biased in favour of homeopathy. Instead, Gustavo's expertise was in immunology, molecular and cellular biology, data analysis, epidemiology, nanoparticles and ultra-dilutions. His background as an expert in adjuvants for vaccine development at the Finlay Institute in Cuba gives him a unique perspective on infectious disease prevention. 
The first infectious disease he trialed with HP was Leptospirosis. It is a disease of major importance in the tropics where the incidence peaks in rainy seasons and after typhoons in the area. Gustavo led several HP projects from 2007 to 2015 and he admits the early data was at first glance unbelievable and he was ready to dismiss it. However, such good results were showing up in his Cuban population in leptospirosis prevention that it screamed for attention. On detailed inspection the results were unambiguously successful. Not only were the remedies highly effective but they were affordable and quick to make in a country with few resources. 
The latest information about this study was presented in the Brisbane conference ie: that the effectiveness is still holding after so many years have elapsed. Again, unbelievable. But true nevertheless. Since the HP intervention, the incidence of leptospirosis is still below what history predicts it should be at this stage. So much so, that at the moment leptospirosis is not currently needing preventive treatment. 
Thinking outside the box: Keynote Speech by Kim Elia
Kim Elia is a Canadian Homeopath who was inspired to study homoeopathy when he read Gandhi's quote, 'Homeopathy cures a greater percentage of cases than any other method of treatment. Homeopathy is the latest and most refined method of treating patients economically and non-violently.'  Kim has been sharing homoeopathy with a worldwide audience for 32 years and is CEO of WholeHealthNow which is an online homeopathy resource. He is the principal instructor and developer of the four-year classical homoeopathy program at the Hahnemann Academy in Tokyo and Osaka, Japan.
Kim spoke about cases where the Hahnemannian practice of homoeopathy is not effective and we must think of other approaches to help the patient. He discussed the use of taxonomical groupings, bowel nosodes and other forms of practice which lie outside the 'classical' practice of homoeopathy.
Kim talked about his soon to be released film in which he is keen to make it clear that Homeopathy is a powerful healing modality that changes lives. He says "until now, the voice of homeopathy has been silenced across the medical landscape. Introducing Homeopathy  is a new feature-length film dedicated to bringing Homeopathy into every household and healthcare system globally". Way to go Kim, no small ambition.
Causes of Childhood Autism in plain sight?
Presenter: Nyema Hermiston, President of The Aurum Project, Australia's homeopathic research organisation and author of Good News for People with Bad News. She runs the Karuna Health Care Clinic with her husband Jon Gamble. Nyema's background as a Registered Nurse and naturopath has served to complement her homeopathic practice.  Her special interests are acute primary care and child health. She attained a BSc Hons (Hom) from Middlesex University UK in 2021. The research Nyema undertook during this study, uncovered and fuelled her interest in looking at the current research conducted on her topic: Causes of childhood autism in plain sight?
During Nyema's important presentation there were several comments around me in the audience of people saying "Wow". One unforgettable case history of a little child who responded well to a supplementation of iodine, reinforced the need to look at causations when jumping into the treatment of ASD. There are so many causations which seem to receive little attention: iodine deficiency, chemical overload and indoor and outdoor pollution being just a few of them. Making use of this information which is readily available but not currently widely discussed becomes imperative. However, Nyema said that in mainstream medicine "other than early intervention with speech and behavioural therapies, there is no recognised treatment or prevention strategy for ASD".
Through ascertaining causes and identifying obstacles to cure from the literature, homeopaths can develop pathways to use targeted ASD treatments. Additionally, current research can inform homeopaths on how to educate families about protecting their future children from developing ASD.
Addressing layers of infection in complex neurodevelopmental children's cases
Sarah Valentini presented this widely interesting topic at the conference. Sarah is the director of The Family Apothecary Clinic in Melbourne and has co-founded Homeopathy Hive in the USA - a clinic that focuses solely on working with complex neurodevelopmental children's issues. She has supported many families in managing their child's health in an integrated model and has a great interest in disorders such as ASD, PANDAS, PANS & ADHD where we face an unprecedented growth. 
The children affected by these conditions are no longer having 'normal' immune responses to pathogens and allergens, and this is evident in the children that come to homeopaths with complex physical and behavioural symptomatology.
Working with children with behavioural and neuroinflammatory disease requires an open-minded, multi-faceted approach. The presentation  by Sarah focused on the use of nosodes that are not well known in the materia media. These remedies are very helpful to shift layers of infection which are either latent or not resolved in full. This may be due to a disordered immune response or an autoimmune response, leading to neuroinflammation.
Homoeopathy provides a unique tool in addressing the infections in the body, using nosodes to alter miasmatic expression and change the relationship of the vital force to these infections.
The Aurum Project had five poster presentations at the conference
A systematic review determining the amount, focus and nature of homoeopathy research activity in Australia
Research pod members include Dr Sabina Vatter, Dr Celeste Salter and Linlee Jordan
Poster presentation by Dr Sabina Vatter. Sabina is a full-time researcher in psychology (currently in eating disorders) and works part time as a homoeopath at the Harbord Homeopathic Clinic in Sydney. She is conducting research in homoeopathy with The Aurum Project.
In the 'Australian Research Priorities in Homeopathy 2018-2024' report it was identified that there had never been a literature review of Australian publications of homoeopathy research. Undertaking this work is important because by understanding the building blocks of previous research we are better able to lay out strong foundations for future scientific research in homoeopathy. To address this, Aurum Project is conducting a comprehensive systematic scoping review to determine the amount, focus and nature of peer-reviewed research articles on homoeopathy in Australia.
'Irritation on all levels' - A glimpse into our research process of the homoeopathic treatment of urinary tract infection in women in Australia.
Research pod members include Mrs Ashraf Sharafi, Dr Sabina Vatter, Dr Celeste Salter and Sunny Goddard.
Poster presentation by Mrs Ashraf Sharafi. Ashraf  is a naturopath, herbalist and nutritionist who has a master's of Biomedical Science and a bachelor of Medical Science with more than 25 years of experience and knowledge in medical science, pathology and medical research at the University of Western Australia. 
What is the scope of homoeopathy in the management and treatment of urinary tract infections (UTI) symptoms? This is a highly relevant topic as UTIs can be recurrent, resistant to antibiotics and a public health issue. Women experience physical, emotional and mental discomfort, which creates a complex picture of disease. The aim is to conduct a retrospective case series analysis amongst homoeopaths across Australia. A second aim will reflect on the experiences of each Research Pod member while stepping through the research process with the intention of better understanding the intricacies of a homoeopathic approach in treating multiple UTI symptoms.
Harnessing insights from inside the homoeopathic profession in Australia
Poster presentation. Collaboration between the Australian Register of Homeopaths (ARoH) and AP working on a national Workforce Survey.
Research pod members include:
Michelle Hookham, past chairperson International Council for Homeopathy
Sandra Venables, ARoH Secretary and Executive Assistant
Dr Celeste Salter, AP Research Co-ordinator
Gabrielle Brodie, AHA National Council research portfolio for 6 years, AP Research Pod member
Planners for public health and policy makers are able to ensure public safety and optimal public health and patient outcomes by integrating knowledge of the workforce and their practice into public health policies. As such, it is a desired outcome for the homoeopathic community that this knowledge is formalised through the implementation of a workforce survey undertaken annually.
In 2022, The Aurum Project and ARoH began a collaboration to develop the rationale, research proposal, methodological framework, ethics application and workforce survey questionnaire. It is proposed that the workforce survey will be completed annually by homoeopaths at the time of registration renewal, in order to establish a baseline of information about the homoeopathic profession in line with other health profession surveys in Australia.
Is homoeopathy a viable treatment option for Molluscum contagiosum (MC)
Poster presentation on Molluscum contagiosum by Dr Sujata Naik MD on behalf of a collaboration between Dr Sujata Naik's Homeopathy Clinic, India, and Harbord Homeopathic Clinic, Sydney.
Research pod members include:
Dr Sujata Naik practices in Mumbai and runs a rural charitable outpatient dept. in Maharashtra
Dr Runali Kelwalkar, Diabetes Educator, Nutritionist, Homeopath at Dr Sujata Naik's Homeopathy Clinic
Dr Sayali Tilak, Homeopathic consultant at Dr Sujata Naik's Homeopathy Clinic
Dr Celeste Salter, AP Research Co-ordinator, Homeopath in the Blue mountains
Linlee Jordan, AP Director, Harbord Homeopathic Clinic
MC is a viral infection observed to be benign and self-limiting. As current treatment option guidelines for MC are inconclusive and results inconsistent, an opportunity to explore the use of homoeopathy for this condition exists.
A retrospective analysis of paediatric cases of MC from Dr Sujata Naik's Homeopathy Clinic, India, and Harbord Homeopathic Clinic, Sydney, was conducted. Other homeopathy case series were studied. Based on this study homoeopathy may be considered as a viable treatment for paediatric cases of MC. 
There were two important findings in the cases treated with homeopathy, first was that MC was consistently resolved faster than what would be expected if left to self-resolve and second there were many other seemingly unrelated symptoms or allied symptoms which improved as well as the MC eg: bedwetting and behaviour problems. The possibility of this happening is not new information to homeopathic practitioners who holistically look at every case but it is new to Dermatologists and Doctors treating skin complaints.
Creating resilience in our homoeopathy community: the concept of Pods
Poster presentation by Dr Celeste Salter who is the AP Research Coordinator and Research Pod concept originator together with Sunny Goddard. 
AP began with a collaborative research approach many years ago, then in 2019, Research Pods were launched with an aim to bring together practitioners who would turn great ideas into valuable knowledge and conduct grounded practical research. Pod relationships become important as the Pod grows into much more than a content generator: connecting practitioners for support and building their resilience. Through the evolution of research pods, it was realised that AP is a Teal organisation using the principles of Self-management, Wholeness and Evolutionary Purpose. 
Pod research explores novel ways of conducting practitioner-based research in alignment with the practices and approach taken by homoeopaths in practice.
My apologies to the many wonderful people who gave posters and presentations which are not included in my conference blog. I couldn't include you all but I truly appreciate your love of homeopathy and the effort you put into your study and your work. Congratulations to the hard working conference team of the AHA for such an excellent conference and congratulations to members of The Aurum Project Research Pods who had poster presentations at the conference.