Can anything natural be done for my children and their ear problems? It's one of the most common questions from parents. In one word, the answer is YES. An Aurum Project article was published in the spring issue of the journal of the Australian Traditional Medicine Society (ATMS): Analysis of a modern approach to the homeopathic treatment of chronic and acute ear problems in children.
The abstract by the main author, Penny Barron says: One of the common reasons children visit the doctor is middle ear problems, whether they be acute otitis media or the more chronic manifestations of otitis media with effusion (glue ear). This paper offers an approach to treating children suffering from a whole spectrum of middle ear problems using Earmix plus a constitutional remedy and dietary changes. A retrospective case series analysis was carried out on clients who were treated in this way and the results of the study showed a high success rate in many of the cases.
What is otitis media? What is glue ear?
Otitis media is a middle ear infection. It occurs in the small space just behind the eardrum in the middle of the inner ear. It usually causes an earache. Most middle ear infections are caused by a virus (e.g. the cold virus). Often the ear infection follows a cold or a throat infection. Ear problems in children such as otitis media are very common. Every year in Australia about 1 in 10 children (particularly children younger than 4 years old) will have a middle ear infection, compared with about 1 in 100 adults.
Acute otitis media is a short-term infection. If a child or adult repeatedly gets otitis media, or if an infection does not completely heal and the swelling and redness in the ear persist, then it is called chronic otitis media. Glue ear is called otitis media with effusion because there is a build up of fluid in the middle ear. Glue ear is not usually painful.
Symptoms of glue ear
Many children with glue ear do not have any symptoms
Some children have problems hearing, they may want to have things repeated, talk loudly or have the television up loud. Parents or teachers may notice this, especially in noisy situations such as classrooms
Your child may have some pressure or pain in the ear from time to time
In smaller children, hearing difficulties may affect their speech development
Some children seem to be more irritable and have problems sleeping when they have fluid in the middle ear
A few children with glue ear seem to have problems with balance.
Ear problems in children (including glue ear) is a common reason to visit the doctor
Otitis media and its chronic manifestations are the most common reason for visits to medical professionals in childhood. The financial burden for this group of conditions and their complications is considerable and can result in significant parental stress.[i] There is also growing evidence that a causational link exists between conductive hearing loss resulting from recurrent Acute Otitis Media (AOM) in the first three to five years of life and later problems in language and academic development. [ii] In Australia, one study estimated the average incidence of recurrent AOM and its complications in Aboriginal children to be as high as forty two percent. [iii] It is often difficult to discriminate between the manifestations of Otitis Media with Effusion (OME) and recurrent AOM and they frequently overlap. A child with one condition will commonly be likely to also develop the other. [iv] Many parents are concerned about the considerable discomfort a child undergoes during bouts of otitis media with pain, fever and irritability being the primary symptoms.[v]
OME is commonly referred to as glue ear
Glue ear is the most common cause of paediatric hearing loss and requires extensive resources to manage it, such as ongoing doctor's appointments, the cost of medications, loss of sleep and productivity for parents, and the stresses of undergoing surgery.[vi] A number of causative factors contribute to its occurrence, including repeat episodes of AOM, upper respiratory tract infections and lifestyle circumstances such as passive smoking, poor diet, overcrowding and long day care attendance. Many parents would attest to the limitations conventional treatments offer, such as antibiotics and grommets, and look for alternatives that seek to avoid invasive interventions for their child.[vii] Many complementary and alternative medicine (CAM) modalities offer various treatments for OME and recurrent AOM, including homeopathy. It appears there is a significant move towards reconsidering the validity of CAM treatments, given the complications of antibiotic therapy and increasing resistance of microbes.
Stress factors for parents dealing with ear problems in children
Ongoing doctor's appointments
Cost of medications
Loss of sleep
Loss of productivity for parents, time off work
Children needing time off school because of ear problems
Child undergoing surgery for grommet insertion
Causative factors of glue ear in children
Upper respiratory tract infections
Repeat episodes of acute otitis media
Passive smoking
Poor diet
Overcrowding
Long day care attendance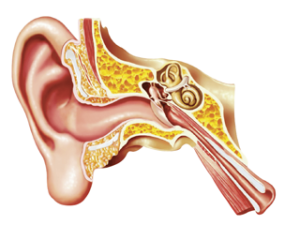 The Homeopathic treatment in this study included Earmix
This study is an exploration of the effects of Earmix along with individualized constitutional homeopathic treatment in relieving the symptoms of OME and recurrent ear infections in children. Causation factors were also studied since they are sometimes useful in guiding the choice of constitutional remedy. It includes data from case notes and feedback from parents.
Homeopathic treatment of ear problems offers an alternative
The results of the study suggest that there is extensive scope for further research into the use of Earmix plus constitutional remedies in homeopathic treatment for ear problems including OME and recurrent AOM, especially if undertaken in a larger test group. The overall outcome of 94% improvement in a short period of time suggest that homeopathic treatment for OME and recurrent AOM has potential, especially with the addition of Earmix to the treatment schedule.
These figures also suggest the possibility that homeopathic treatment of ear problems in children offers an alternative to conventional medical treatment
Most importantly, the results highlight the concept that concurrent treatment, as opposed to constitutional treatment alone, may be the treatment of choice for conditions with multiple aetiologies like OME and recurrent AOM.
The full text article is available to members
References for homeopathic treatment of ear problems in children
Barron P. Jordan L. Analysis of a modern approach to the homeopathic treatment of chronic and acute ear problems in children.  JATMS. Spring. 2014. Vol. 20 (3). p.188-193.
[i]Klein, J. The Burden of Otitis Media. Vaccine Dec 2000;8;19; Suppl 1:S2-8
[ii]Eimas, P. Kavanagh, J. Otitis media, hearing loss, and child development: A NICHD conference summary. Washington D.C. Public health reports May-Jun 1986;101;3;289-93.
[iii]Mahadevan, M. Navarro-Locsin, G. Tan, H. et al. A review of the burden of disease due to otitis media in the Asia-Pacific. Internat Journal of Paediat Otorhinolaryng. May 2012;76,5;623-35.
[iv]Daly, K. Hunter, L. Giebink, G. Chronic Otitis Media with Effusion. Pediatrics in Review /American Academy of Pediatrics 1999; 20;3; 85-94.
[v]Loo, M. Spicer, A. Levatin, J. et al. Otitis Externa and Otitis Media. Integrative Medicine for Children. Saint Louis: W.B. Saunders 2009 Chap 49, pp 410-423.
[vi]Szeremeta, W. Mahesh, S. Parameshwaran, M. et al. Adenoidectomy with Laser or Incisional Myringotomy for Otitis Media With Effusion. The Laryngoscope, 110;3; 2000, 342–345.
[vii] Mathie, R. Clinical Research Evidence in Homeopathy- Present and Future. Hpathy.com. 2009.