Thank you to Dr Muhammed Rafeeque who has contributed his case of Lichen Simplex Chronicus to The Aurum Project. The case has been fully resolved using Homeopathic treatment.
This blog has been updated September 2023 to include some case series research on lichen planus.
What is Lichen simplex chronicus?
Lichen simplex chronicus is also known as neurodermatitis. It is a skin disorder where the patient has chronic itching and scratching. The constant nature of the scratching results in thick, leathery skin with a brownish discoloration. Lichen simplex chronicus is found on the skin in regions accessible to scratching. There is a varying amount of scaling. It may be associated with anxiety and depression.
Emotional tensions in predisposed subjects may play a key role in inducing an itchy sensation, leading to scratching that can become self-perpetuating. The possible interplay among primary lesions, psychic factors, and the intensity of the itching all influence the extent and severity of lichen simplex chronicus.
It may begin with something that rubs, irritates, or scratches the skin, such as clothing.
This causes the person to rub or scratch the affected area. Constant scratching causes the skin to thicken.
The thickened skin itches, causing more scratching, causing more thickening.
Why is the word 'lichen' used to describe the condition Lichen simplex chronicus?
The term is one of the descriptive terms used in dermatology. A lichenoid change to epidermal cells refers to the dead surface cells becoming tightly adherent to the surface of the skin. The final result is likened to lichen growing on the bark a tree:  lichens are composite organisms formed by a fungus, and usually a green alga, coexisting. Apart from the appearance however, there is no connection between lichens, and skin diseases!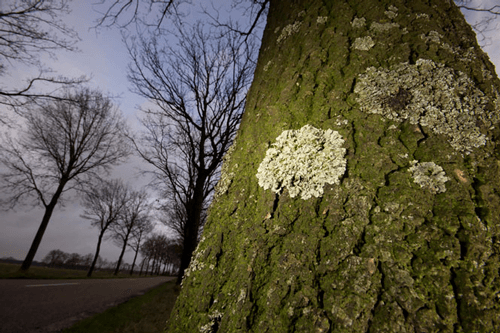 The top layer of the skin reacts to repetitive mechanical trauma by thickening up, leading to an accumulation of dead cells sticking to the skin surface. The appearance is called lichenification.
The similarity to the bark of a tree is striking, causing normal skin markings to become very pronounced, sometimes with cracks and fissures appearing. It is usually due to chronic rubbing or scratching of an area, especially the areas which are easily accessed on the extremeties: arms, thighs, calves, shins. Some skin types are more prone to lichenification, such as skin that is prone toward eczematous conditions.
A case history of  Homeopathic treatment of Lichen simplex chronicus
Mr C. aged 46 years
Occupation: Sales Representative
Marital status: Married with three children.
Chief complaint: Itching eruptions with black discoloration on both legs since six months: Lichen simplex chronicus.
Details of the chief complaint: Itching eruptions with black discoloration on both legs since six months. Calf region is mainly affected. The discoloration is not uniform, it is scattered in spots. There is severe itching in the affected parts with burning as if warm air is coming out. The skin in the affected area is hard, almost like elephant skin, with occasional peeling of scales after scratching.
Past history: History of road accident one year before the consult. The result of the accident was a contused lacerated wound on the scalp, without any damage to the deep structures.
Family history: Father has heart disease. Mother died after brain hemorrhage.
Treatment history: Consulted a dermatologist who prescribed some steroid creams and tablets. Itching was controlled after that, but the lesions were same.
Mental Generals: Irritable, especially when questioned. He does not like even his superiors to question him.
Physical generals: 
Appetite – Normal
. Thirst – Large quantities. 
Aversion to Meat. 
Sexual – Violent desires and thoughts with frequent erections. He also has extramarital relations.
 Climate – Prefers cold climate since he has a general aggravation by warmth.
General physical examination:
 Nothing abnormally detected except bluish discoloration of tongue (since childhood)
Vital signs: All vital signs were within the physiological limit.
Life situation: 
He is a self made man who started his life with a big zero. His family was very poor, so he had to discontinue his studies so that he could start in a shop as a sales man. Later, he completed his graduation while doing a part time job. Now he is living with his wife and two children. The present financial situation is also stable after he joined a reputable marketing company.
Homeopathic treatment Rubrics:
Mind – Irritability – Questioned when.
Generalities – Warmth, agg.
Generalities – Food and drinks – Meat aversion.
Stomach – Thirst – Large quantities for.
Skin – Eruptions – Blackish.
Extremeties – Eruptions- Leg- Itching.
Skin – Burning – Vapor were emitted from pores, as if.
Repertorisation Result (Sum of symptoms): 
Arn, Chin, Nat m, Sil, Rhus tox, Calc, Fl ac, Graph, Nit ac, Nux v, Anac.
Disease diagnosis: Lichen Simplex Chronicus.
Remedial diagnosis: Flouric Acid (Fl ac)
First prescription: Flouric Acid 200, one dose every week.
Advice: 
1. Stop scratching the lesions. 
2. Avoid non-veg food items
 3. Avoid use of ointments and creams
 4. Use glycerin soaps
2nd Visit:
 Consulted after 15 days. There was much improvement of the lesions.
 The same medicine continued.
3rd Visit:
 He consulted me after 30 days. The lesions and itching disappeared completely. The patient occasionally comes for routine checkups, and is fine till date. He has also stopped his extramarital relations.

© Dr Muhammed Rafeeque
Institutional Review Board Member, AMCofH, USA
The IRB is the authority to review the research proposals that involve human subjects
Medical Officer, Department of Homoeopathy, Govt of Kerala  FamilyHomoeopathy.com
Homeopathic research on lichen simplex chronicus
2006 A homeopathic case series analysis of twenty-seven patients with chronic lichen simplex was conducted by Gupta and Manchandra and was published in Homeopathy Journal in 2006.  The patients were treated using one of five remedies based on their presenting symptoms. Hydrocotyle was prescribed to 21 patients in different potencies (6c, 30c, 200c, 1M, 10M), Thuja to three patients (1M, 10M), Graphites (6c), Kali bich (30c) and Sulphur (200c) to one patient each during 1 year study period. Two patients showed complete improvement with Thuja and one with Graphites. In other cases, the response was limited to partial relief of itching.
The results of the case series analysis have not shown that homeopathy does not work to help lichen simplex chronicus. What it has shown is that the condition does not easily respond to the remedy Hydrocotyle  even though the remedy picture of Hydrocotyle was carefully chosen by the research team to match the symptoms of intense itching of lichen simplex chronica. It is a chronic condition which is unlikely to have a 'one remedy suits all' response despite the remedy looking like a match. As is predominantly the case in homeopathic medicine the remedy for this chronic condition has to be chosen individually.
Homeopathic research on lichen planus (LP)
Various problems that may appear similar to LP include psoriasis, pityriasis rosea, lichen nitidus and keratosis lichenoides chronica. Hypertrophic LP can look very similar to lichen simplex chronicus.
2019 A  homeopathy series of 4 cases of generalised lichen planus (LP) was published in 2019. Ignatia resolved the case after 3 months for one lady who was 48 years old. Aurum metallicum was prescribed successfully for a 65 year old lady. Next was A 38-year-old male who had a 21-year history of LP. He received homeopathic Lycopodium and remitted by 2 months. He remains in remission. The last case in the series was a 41-year-old male who had a 12-year history of LP, which had responded partially to topical steroids and ultraviolet A therapy. Medical history was significant for reduced sense of smell. Examination revealed generalized, violaceous, hypertrophic papules and nodules. He received homeopathic Carcinosinum and improved after 6 months. 
It is obvious that homeopathic treatment has completely resolved the lichen simplex chronicus in the case history by Dr Muhammed Rafeeque and in the 2006 case series analysis there were two patients who showed complete improvement. In 2019 the case series of lichen planus show complete resolution. These are the cases which should be studied to further our knowledge about the homeopathic treatment of these difficult conditions.
Further reading & references about lichen simplex chronicus
Thorstensen KA, Birenbaum DL; Recognition and management of vulvar dermatologic conditions: lichen sclerosus, lichen planus, and lichen simplex chronicus. J Midwifery Womens Health. 2012 May-Jun;57(3):260-75. doi: 10.1111/j.1542-2011.2012.00175.x.
Lichen simplex chronicus on the back; Medline Plus, 2013
An JG et al; Quality Of Life of Patients with Neurodermatitis. Int J Med Sci 2013; 10(5):593-598.
Cahill S, Chronic pruritic vulva lesion, Journal of Family Practice, Vol. 62, No. 02: 97-99, 2013.
Lotti T, Buggiani G, Prignano F; Prurigo nodularis and lichen simplex chronicus. Dermatol Ther. 2008 Jan-Feb;21(1):42-6. doi: 10.1111/j.1529-8019.2008.00168.x.
Martin-Brufau R, Corbalan-Berna J, Ramirez-Andreo A, et al; Personality differences between patients with lichen simplex chronicus and normal population: A study of pruritus. Eur J Dermatol. 2010 May-Jun;20(3):359-63. doi: 10.1684/ejd.2010.0961. Epub 2010 Apr 13.
Lichen Simplex Chronicus; Merck Manual, 2012
Elmariah SB, Lerner EA; Topical therapies for pruritus. Semin Cutan Med Surg. 2011 Jun;30(2):118-26. doi: 10.1016/j.sder.2011.04.008.
Cohen KR, Frank J, Salbu RL, et al; Pruritus in the elderly: clinical approaches to the improvement of quality of life. P T. 2012 Apr;37(4):227-39.
Felber ES; Botulinum toxin in primary care medicine. J Am Osteopath Assoc. 2006 Oct;106(10):609-14.
Aschoff R, Wozel G; Topical tacrolimus for the treatment of lichen simplex chronicus. J Dermatolog Treat. 2007;18(2):115-7.
Gencoglan G, Inanir I, Gunduz K; Therapeutic hotline: Treatment of prurigo nodularis and lichen simplex chronicus Dermatol Ther. 2010 Mar-Apr;23(2):194-8.
Save