The Malaysia Project
"Much More Than A Seminar"
The Aurum Project wishes to advise you that the Malaysia Project will not be held in 2017 but please do subscribe to our Aurum Project newsletter so that you can stay informed about future seminars and workshops.
---
The Aurum Project has run two seminars in Ubud, Bali which were much more than just a seminar. Participants turned the seminar into a week long homeopathy get-to-know-you with many connections formed, collaborations begun and sharing of valuable what-works-for-me information. Our next seminar will be held in Malaysia and will be run in the same style. We are excited about the natural wonders and geological treasures available for our discovery field trips, especially the Geopark in Langkwai.
The Malaysia Project mission is: to create an atmosphere of clinical information exchange amongst homeopaths; to offer exposure to the living world from which homeopathic medicines derive; and to expand working knowledge by sharing clinical experience.
The Malaysia Project vision is that by sharing information through discussion and exchange in this relaxed atmosphere, homeopaths will expand their working knowledge and help strengthen the public perception of homeopathy in treating clinical conditions.
The emphasis of this seminar is about utilising a rare opportunity to engage with your colleagues in a relaxed atmosphere. By learning from other practitioners' years of practice, the Malaysia Project's aim is for you to increase your working knowledge of homeopathy – expanding knowledge, alleviating isolation, networking, strengthening and supporting practitioners – and having fun.
The seminar week combines lectures, field trips and melting pots (sessions of open exchange between practitioners on a specific topic, sharing clinical insights, successes, to increase clinical knowledge on that topic.) The Melting Pots were a huge success at the Bali Project 2013 and 2015.
What's so special about Langkwai Geopark?
There are three amazingly-unique geoforest parks in it:
The Machinchang Geoforest Park is estimated to be between 450 to 550 million years old. It contains the oldest known rocks in the region and is evidence that the geological origins of Malaysia and even all of Southeast Asia may have begun here.
The Kilim Karst Geoforest Park is nature in the raw featuring a gorgeous limestone landscape, an extensive mangrove forest system, lovely beaches, coastal wetlands and two islands (Langgun and Dendang) that are spectacular nature parks in themselves.
Dayang Bunting Geoforest Park on Dayang Bunting Island is the setting for one of Langkawi's most well-known natural attractions: an enormous freshwater lake perched on the very edge of the ocean. It was formed from the collapse of an ancient cave system. Beautiful marble caves abound on the island and the marble mined here is among the best in the world. The Pasir Dagang Cave on the island can only be accessed with proper caving equipment but the payoff at the end is a magical cavern filled with spectacular curtain stalactites and a gigantic limestone chandelier.
Langkawi Geopark is also the world's first duty-free geopark and the only geopark that is an archipelago, or island cluster. There are over 90 geological sites around the geopark that are under research and have been shown to possess high heritage value. The whole region possesses an abundance of geological attractions like caves, sea arches and stacks, fossils, glacial dropstones and cascading waterfalls.
Culturally, the local inhabitants, long isolated from the mainland, have developed a very rich legacy of myths and legends that blend in with the fascinating oral history of their colourful, if often violent, past.  Famous for the fresh water lake found nestled amongst hills of rugged forest, it is also known as Lake of the Pregnant Maiden. The lake originated as a massive limestone cave which collapsed.
As well as its geological beauty, Dayang Bunting also contains a deep spirituality. Legend tells of a heavenly maiden, married to an earthly prince, who loses a child shortly after the birth. She is said to have buried the child in the lake then blessed the waters with fertility before parting earth for heaven. From a certain angle, the shape of the island resembles a pregnant maiden laying on her back. This magical quality as well as the area's overall astounding beauty is what many believe make Langkawi the number one Geopark in the world.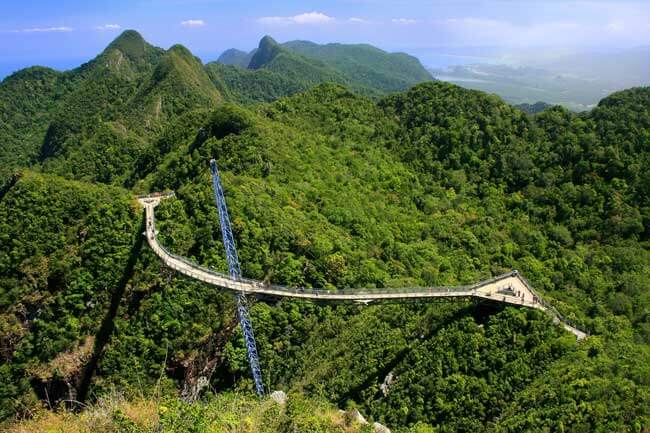 Save
Save
Save
Save