When: Sunday 14th March 2010    1pm to 5pm
Where: Nature care College, Room 4 (upstairs from the cafe), 52 Nicholson St, St Leonards, Sydney
Cost: $75      Early bird, before Feb 15th: $50       Aurum Project members: $50
Bookings: (02) 99059415   Credit card bookings by phone. Receipts issued at seminar. Transfers available but no refunds.
Enquiries: info@aurumproject.org.au
4 CPD points (AHA)
Sponsored by Nature Care College  and Homeoquest – Software for Homeopaths.
Supported by the Australian Homeopathic Association.
A word to homeopaths about the Harness Your Success auditing workshop: At the Aurum Project, we are working to foster the development of  homeopathic research in Australia. Collecting simple data from your practice can really help move forward our  knowledge about homeopathy.  From looking at clinical data collected at the grassroots level, homeopaths can help contribute to something extraordinary – something never before collected in Australia. Be part of the new-wave of homeopathic practice in this country and come together with your colleagues  to contribute to this valuable process of clinical data collection.
It need not be greatly time consuming, or complicated, or intimidating. Learn some straightforward, simple steps to absorb into your patient information gathering and you will be well on your way to contributing to the establishment and growth of homeopathic research in Australia.
The workshop has been called Harness Your Success because the function of collecting data is not only to help further research and the success of homeopathy in general, but it is also for your own success in practice. The workshop will help you to identify, understand and apply data from the many untapped sources in your practice. Australia wide, Homeopaths and natural therapists have a wealth of clinical and practical experience, yet this potential remains unexplored and unpublished. Whether your goal is to market your practice more effectively, develop a specialist clinical approach or to build a research database, this interactive workshop will stimulate and support you in your approach.
Workshop Outline
Why bother to audit your practice?
Models and methods
Identify the focus of your audit
Collect data by the most simple, practical & appropriate methods
How to manage your data
Identify your strengths and weaknesses
Present these results to colleagues
Make changes to your practice from looking at your data
Acknowledge the improvements you've made so far
Marketing, professional development & research interests
Facilitator – David Levy, MHSc (Ed), D. Hom, N.D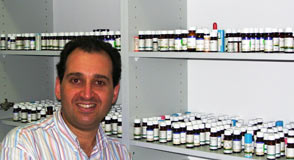 David has conducted two audits and is currently in the midst of a third personal practice audit. His interest in research has been a primary motivation, but also a need to simply find out 'what works' and  'what isn't working'. In this hands-on workshop you will acquire a few basic tools as well as easily understood tips. We hope you gain the incentive to get started!
David is an experienced homeopath, lecturer and clinical supervisor. His post-grad studies, a Masters in Health Science Education cemented his interest in clinical auditing.