The Golden Book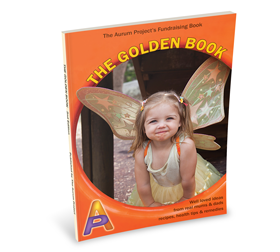 The Golden Book is a fundraising book published by The Aurum Project. It is full of well loved ideas from real mums and dads, recipes, health tips and rainy day activities.
When we asked parents to share their favourite hints, we were given a lovely insight into what happens in the home at the coal face of parenting. The ideas which are most loved are the ones that just really work or are quick and easy. So while this is certainly not a complete manual about cooking for children nor a complete 'How to Raise a Healthy Child' book, there are lots of useful ideas and 'best tips'.
Probably because the activities and hints have been used by real mums and dads they convey a strong message about a parenting-style to be admired. So the parenting philosophy conveyed is something like this: "I would rather be messing about making pretend trains from old cardboard boxes than cleaning the house."
It's also delightful to notice that amongst the gluten-free recipes and spelt pasta suggestions there are a number of "to die-for" chocolate treats. There is a section on finger millet recipes.
The most important thing we heard (of course) is that anything coming out of the kitchen has to be pronounced yummy by the most selective recipe review panel you will ever come across – the kids.
The first edition sold out quickly and the second edition is for now for sale.
Members of the Aurum Project can order multiple copies at a reduced price and use them to give to attendees at Homeopathy talks.
You can buy it in person at the Harbord Homeopathic Clinic in Brookvale Sydney. You can order by phone and pay by credit card 02 99059415
My copies of the Golden Book arrived today – What a great treasure chest of recipes & advice – It's fabulous & I will promote it through my clinic. Jane Lindsay, homeopath
Save