"I also turn to homeopathic remedies for the treatment of indigestion, travel sickness, insomnia and hay fever just to name a few. Homeopathy offers a safe, natural alternative that causes no side effects or drug interactions." Dr Charles Menninger
This homeopathy quote comes from one of the founders of the Menninger Foundation. The foundation was started in 1919 by the Menninger family in Kansas, and consists of a clinic, a sanatorium, and a school of psychiatry, all of which bear the Menninger name. In 2003, the Menninger Clinic moved to Houston. The foundation was started by Drs Karl, Will, and Dr Charles Menninger.
"A better kind of medicine" said Dr Charles Menninger
It represented the first group psychiatry practice. "We had a vision," Dr Charles Menninger said, "of a better kind of medicine and a better kind of world." The Menninger Foundation gained a reputation for intensive, individualized treatment, particularly for patients with complex or long-standing symptoms. The innovative treatment approach was multidimensional, addressing a patient's medical, psychological, and social needs. Numerous independent organizations recognized the Menninger Foundation as a world leader in psychiatric and behavioral health treatment.
Dr Charles Menninger started studying homeopathy in 1887
Dr Charles Menninger began study at Hahnemann Medical College, a homeopathic school in Chicago, in 1887; he graduated two years later as a doctor of medicine. That same year Dr Charles Menninger started to practice medicine, being particularly interested in diabetes and metabolic disturbances. He continued his formal study at the Kansas Medical College, then a division of Washburn University, and graduated in 1906, when he was also elected to the faculty of the medical college.
He found a cooperative medical community with which he could work, and he became a well-regarded physician in the city, with demand particularly among the German-speaking residents. Charles continued post-graduate studies in Chicago, Michigan, and New York, continued to read the professional literature, and was a local innovator, such as through his use of microscopes in the office and treating diabetes with insulin.
Dr Charles Menninger first became interested in mental illness in the 1890s. In 1919, C.F.'s son Karl Menninger returned from his medical studies and a residency in Boston to open the early Menninger Clinic with his father. A few years later Charles' youngest son Will, also a doctor, joined them, the group practice slowly becoming a strictly psychiatric facility and eventually becoming a major national institution in the study of and care for patients with mental illnesses.
Dr Charles Menninger believed gardening classes could be part of a natural alternative treatment program
Throughout his life, Charles conducted classes in gardening, mineralogy and conchology as part of the adjunctive therapy program at the Menninger Foundation. He remained active in the medical field as well as the local community until his death on November 28, 1953.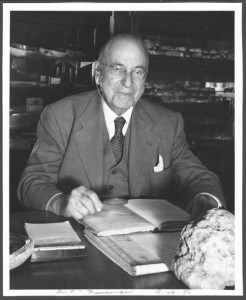 The photograph is Dr Charles Menninger with his collection of rocks and books about mineralogy. His other main interests included: diabetes, neurology, mental illnesses, shells, geology and mineralogy, the Reinisch Memorial Rose Garden, various flowering plants, and other natural and horticultural topics. His office was in the Arts and Crafts building in the East Campus of the Dr Charles Menninger Clinic in Topeka, Kansas. Date: September 26, 1950.
He would pursue a natural alternative for many complaints and he has become famous for the homeopathy quote above.